Description
Edit
The State Customs Committee of the Republic of Abkhazia (ГОСУДАРСТВЕННОГО ТАМОЖЕННОГО КОМИТЕТА РЕСПУБЛИКИ АБХАЗИЯ) is the organisation responsible for protecting the de-facto border of the territory under control of the government of the Republic of Abkhazia.
Uniforms
Edit
Formal Uniform
Edit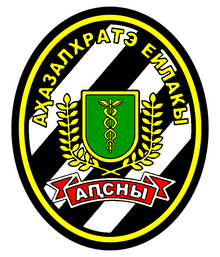 The various items worn are similar to those worn by the army in cut but with the following differences:
the pants, jacket and tie are forest green
the oval diagonally striped patch of the border guards is worn on the upper left arm of the jacket. on the lapels are green shield shaped pins that contain a gold caduceus
The peaked cap has a forest green crown and band with a metallic version of the shoulder patch centered on the band.
instead of vertical stripes and 5 pointed stars, officers ranks are indicated by horizontal striped and 10 pointed stars. the boards are uniformed colour with gold edges.
Semi-Formal Uniform
Edit
Like the army but in forest green and with the border guard patch 
Arm Patch
Edit