The Sûreté du Québec (SQ) is the provincial police of the Canadian province of Quebec. In addition to certain policing areas that are of its sole jurisdiction (such as highway patrol), it also serves as municipal police in smaller rural towns that do not have their own police department.
Uniform
[
]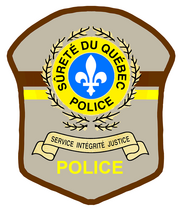 The various items of uniforms of the SQ are olive green with beige shirts. The first version of this uniform, meant to make SQ officers stand out from their municipal counterparts, was introduced in 1963 and as of 2015, the SQ is the only police force in the province not to have switched to blue-black uniforms instead introducing a dark olive green version of the various uniform elements.
[

]
Rank Inisgnias

[

]
Rank insignias are worn as shoulder slides or attached directly to the epaulettes on some uniforms.
† was abolished at some point between 2009 and 2012.
Branch Inisgnias

[

]
Officers wear an enamel shield-shape insignias to indicate which section (Grande Fonction) of the SQ they belong to. Depending on the type of uniform worn, it can either be pinned to a leather strap attached to the right breast pocket's button (under its flap) on the ceremonial uniform or business shirt or on the left lapel of the double breasted jacket.
Each section is headed by a Directeur-Général Adjoint except for the for the office of the Directeur-Général
† was abolished at some point between 2012 & 2014.
Collar Pins

[

]
Small version of these are worn on both collars as well as a single larger version of these pins is worn over the name badge on the double-breasted jacket. 2 are rank specific while the 3rd can be worn by someone with either the rank of Inspecteur or Inspecteur-Chef
The white Rod of Command which is part of the insignias of the Directeur General was created and first awarded in 1983.