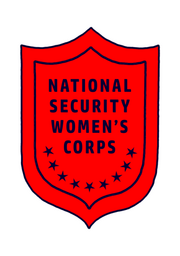 The National Security Women's Corps was a volunteer civilian organisation founded in 1940 in the United States. The corps was a part-time organisation whose aim was to train female personnel to respond to emergency situation and to eventually provide various auxiliary roles to the armed forces. A large number of its members went on to serves as part of the WAVES, WAACS and Nurse's organisations.
members wore dark greyish-blue jacket and skirt that appears to have been identical in cut and colour to the one worn by female members of the Civil Defense. A side-cap of the same colour as well as a white shirt and navy tie were worn with them.
On the left side of the side-cap is worn a gold pin bearing the initials "NSWC". On the left upper sleeve only is worn a red woven badge displaying the organisation's logo.
NCOs insignias and rank names for all follow the US army pattern but the officers wear silver metalic disk and lozenge to indicate ranks in the same manner as the modern day Junior Reserve Officers' Training Corps.
Note that there are no ranks higher then Colonel.